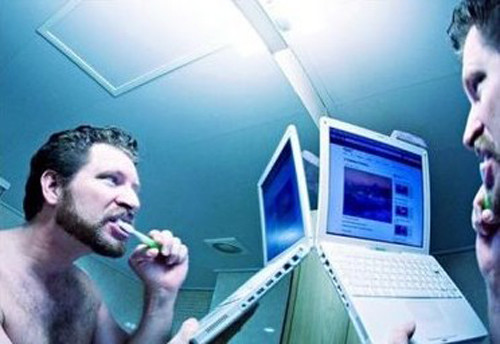 As I lay in bed contemplating the next day's post, absentmindedly checking my email via the dimly lit screen of my iPhone, it occurs to me: Are so busy trying to keep up with technology we no longer have time for warm-blooded, real live relationships?
I roll out of bed; I check my email (delete, delete, delete) and get coffee

I blog, I tweet, I post on Facebook

I log on, I link(ed)in, and I Diggit

I look at Facebook and I check to see if anyone has responded to my blog or retweeted my tweet
My friend calls for lunch, but I don't have time. Too much to do.
I listen to voicemail, I check my email (delete, delete, delete) and respond to texts
I add something to eBay, I update Craig's list, I google my name and decide it's time to update my website
I bank online, I shop on Amazon, and then research publishing my novel as an e-book.
We are becoming more and more like hermits with a portal to the outside world. Looking out, but staying in. Multitasking, but going nowhere. Googled by thousands, but known by few.
I blog, I hit enter,  I pick up the phone and call my friend…
"Let's have lunch!"