With a nonfiction deadline only days away, only half a book completed (granted, it's a book for 2nd graders so, word-wise, there's not that much to go) and a mini marathon to walk, requiring two precious writing days away from my computer to drive to the marathon site and back, I have no business writing a post.
In fact, I'm so crabby and tired I had to go buy salsa and guacamole just to motivate myself to write!
That said (or rather, that whined), while I was out on my munchie run I came across something I just had to share: A Jane Austen quote.
I may write sci-fi, but I love Jane Austen novels–and I have huge crush on Darcy (a.k.a. Collin Firth).
Actually, there is a new version of Pride and Prejudice with zombies in it. And you would think I'd be all over it; but honestly, I can see no reason to add zombies to a perfectly good story line. Jane Austen's world is nothing if not alien enough for me—thank you very much!
To close this post, here's the quote from one of my favorite Jane Austen books, Emma.
"Silly things do cease to be silly
if they are done by sensible people in an impudent way."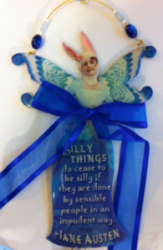 I had to laugh. That's me. That's all my silly women friends. It's all us sci-fi, fantasy and zombie loving women authors out there, writing about aliens and monsters and daring to take ourselves just the tiniest bit too seriously as we write about silly stuff. But isn't that why we love writing!