Welcome, Jade Kerrion, award-winning author of Perfection Unleashed. Jade is on tour to promote the next two books in her Double Helix series: Perfect Betrayal and Perfect Weapon. (Read more about the first two books HERE.) 
Today Jade will try to answer a couple of the more burning questions I had while reading her perfectly wonderful novel. Namely…
Why would she cast Orlando Bloom in the role of Galahad/Danyael Sabre when clearly Daniel Craig is perfect for the part? (Jade and I are having just a bit of a difference of opinion on this topic.)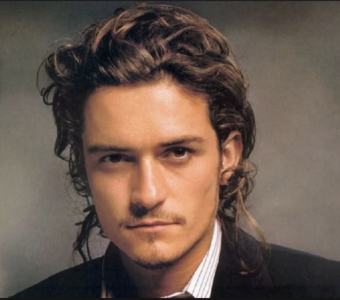 ME: Hi, Jade. Welcome to my website. I'm curious about your thoughts on perfection. As I read Perfection Unleashed, it occurred to me that there are probably vast differences in your definition of the perfect human versus my definition (versus just about anyone else who cares to chime in on the subject). Let's face it…we can't even agree on the same actor to play the roles of Danyael/Galahad in the movie. (Though clearly, the correct answer is Daniel Craig.) Given that, when choosing to write a series in which one of the characters has been created to be the Perfect Human—and assuming you, too, were aware that not everyone would define perfection the same way—how did you deal with this issue?
JADE: Before we even get to the Daniel Craig/Orlando Bloom debate, we need to tackle the issue of gender. A beta reader, upon finding out that the perfect human being was male, immediately laughed and said, of course he's not perfect; he's male! Being females, you and I understand perfectly the sentiment behind that comment.

Perfection Unleashed and the Double Helix series explores, among other philosophical concepts, the notion of perfection. Galahad is a magnificent physical specimen; his mind is incisive and mirrors the greatest intellect on earth (who happens to be female…) His genes are a patchwork of excellence drawn from every possible facet of humanity. And yet, he will find, to his frustration, that people who can't agree on the definition of humanity and equality will certainly not be able to agree on the definition of perfection. The debate is not just an intellectual one; it becomes highly personal later in the series when people appear to prefer the company of Danyael Sabre, the alpha empath and Galahad's physical template, who is deeply imperfect in many ways. Danyael is the protagonist of the Double Helix series, but the story is as much about Galahad coming to terms with who he is as the "perfect" human being.
ME: Speaking of perfect females…my favorite character in your series is Xin, a computer genius and the clone of a twelve hundred BC queen, military general, and high priestess from ancient China. Tell us a bit about how the idea for Xin came into being. Also, I'm curious as to if you based her on a real character from history.
JADE: As much as possible, I anchored my novel in fact. The science in the Double Helix series is not just possible, it's much more advanced than many of us believe it to be. Where I could, I also anchored my characters in fact. Xin's the best example of it. The original Xin is real. (http://en.wikipedia.org/wiki/Mu_Xin) She was known as Fu Hao and was one of the many wives of King Wu Ding of the Shang Dynasty. She was also, unusually for those times, a military general and high priestess. Best of all, her tomb was unearthed intact, which of course, promised all sorts of interesting DNA and cloning possibilities.

History is full of remarkable women who had multi-tasking down to an art form, and Fu Hao/Mu Xin was one of them. I placed Xin into the story in part to stoke my own curiosity. How would an ambitious and capable woman from ancient China fare in modern society? How much of her instincts and skills are innate versus taught? Would turning a clone of Xin's caliber loose on society today be akin to releasing a deadly virus we can't control? Xin's one of my favorite characters too, and she's embodies issues and questions that neither Danyael nor Galahad can address. My plan, in the distant future, is to write a novel that focuses on Xin. (I guess that means I can't kill her off, yet…)
ME: Finally, Jade, I have to ask: Why Orlando Bloom? What qualities make him the perfect actor to portray Danyael Sabre/Galahad? (And I just have to point out, were you casting the role of the perfect elf, I would have no quibbles with your selection.)
JADE: Let's see…three reasons why Orlando Bloom. 1) He's cute. 2) He's cute. 3) He's cute. Any other questions?

But seriously, there were a couple of reasons, and at least one of them has to do with the "perfect elf" you referenced. Danyael and Galahad have pale blond hair and sculptured good looks. I don't know about you, but when I think "pale blond hair and good looks," I automatically think "Legolas…" That got Orlando Bloom through the first round (even though in real life, he's dark-haired.)

After that, it was just a matter of justifying the decision. Orlando's 35 years old; Danyael is 28 and Galahad is 25. I figured Orlando could probably swing the age difference. Then it was star appeal. If Perfection Unleashed ever got made into a movie, he'll pull in the women in droves. Now, admittedly, Daniel Craig would do the same (pull in women, that is) though, at 44, Daniel would have a harder time playing a twenty-something. Finally, I though Orlando might be able to pull off the polar opposite depictions of Galahad's passion for the limitless potential of the world he had been previously denied (think Pirates of the Caribbean) and for Danyael's weary watchfulness (Legolas's "been-there-done-that-what-are-these-crazy-humans-doing?" attitude.)
Plus, he's cute. I think that about sums it up. I'd love to hear why you'd nominate Daniel Craig instead (besides the fact that he's cute, has a great body, and is an awesome actor…)
ME: Got it! Now, in answer to your question… In addition to the many physically appealing attributes Daniel Craig possesses (smile), it's his overall demeanor that, in my opinion, makes him a good fit. Though young, both Danyael and Galahad have suffered a lot. It's difficult to imagine them smiling.  Now try to imagine Daniel Craig with a smile on his face. That's right! Craig's calling card to fame is his pained, pouty expression, atop a perfectly chiseled body. Too bad he's not 10 years younger. Ah well, I bow to your superior knowledge of your own characters–Orlando Bloom it is!
Thanks, Jade! I had a perfectly wonderful time interviewing you. Best of luck with all your writing.
JADE: And thank you, Lorijo. It's really been a pleasure coming here to talk about the really important things, like cute men. (No sarcasm intended.) I wouldn't have written the Double Helix series if the people in them were not worth dreaming about, one way or another.
Author Bio:
Jade Kerrion
unites cutting-edge science and bioethics with fast-paced action in her award-winning Double Helix series. Drawing rave reviews for its originality and vision, and described as "a breakout piece of science fiction," Perfection Unleashed, and its sequels, Perfect Betrayal and Perfect Weapon, are available in print and e-book through Amazon, Barnes & Noble, Apple iTunes, and other major retailers.
About The Double Helix series: 
His genetic code sourced from the best that humanity offers, Galahad embodies the pinnacle of perfection. When Zara Itani, a mercenary whose abrasive arrogance exceeds her beauty, frees him from his laboratory prison, she offers him the chance to claim everything that had ever been denied him, beginning with his humanity.
Perfection cannot be unleashed without repercussions, and Galahad's freedom shatters Danyael Sabre's life.
An alpha empath, Danyael is rare and coveted, even among the alpha mutants who dominate the Genetic Revolution. He wields the power to heal or kill with a touch but craves only privacy and solitude—both impossible dreams for the man who was used as Galahad's physical template.
Galahad and Danyael, two men, one face. One man seeks to embrace destiny, and the other to escape it.
The award-winning Double Helix series, consisting of Perfection Unleashed, Perfect Betrayal, and Perfect Weapon, will challenge your notions of perfection and humanity, and lead you in a celebration of courage and compassion. Science fiction, urban fantasy, and action-adventure readers will enjoy this thrilling roller-coaster ride as it twists and turns through a world transformed by the Genetic Revolution.