Sheepishly, I must admit, I'm just your typical hypocrite who one minute bemoans the fact that I no longer have a local bookstore to sip coffee at and browse books, and the next minute clicks over to Amazon to buy a new book.
Like many, I miss being overwhelmed by a bountiful array of book covers—the sensation of so many books, so little time I used to get walking into a bookstore. I'd pick up one book and turn it over to read the back, only to have another glossy cover down the row catch my eye. Hours were lost perusing the stalls searching for the perfect cover/back page combination that would make me say, "Enough—this the one!"
Online, unfortunately, my field of vision is limited to a page… a few square inches of Internet. I know there are thousands—millions of other books out there, but I can't see them. I can't grab them. And what if one of them is the next book I should be reading?
Here's whereTwitter and Goodreads come in.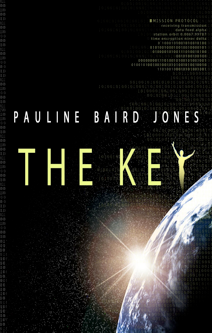 I just finished reading The Key, by Pauline Baird Jones, a book I never would have picked up, or known about, had I not met the author on Twitter. It's actually the third book I've chosen this way. And it's suddenly occurred to me that as my Twitter and Goodreads' following grows, so does my field of vision. While Goodreads offers me lists and recommendations, on Twitter I actually get to interact ( in a limited way) with the author.
So why did I pick The Key? On the author's Twitter picture, she's wearing a funky, steampunkie looking hat—one that intrigued me and prompted me to check out her books. And I have to say, I'm so glad I did!
For me, The Key has all the sci-fi elements I love: tech and adventure, but most of all–great characters. There's also humor and romance and, of course, most it takes place between humans and aliens with special abilities.
The main character in The Key is Captain Sara Donovan. We meet her after she's crash-landed on a planet and been rescued by a good-looking, though not-much-one-for-words, alien named Fyn. Sara and Fyn quickly became two of my favorite fictional characters. Sara is strong, smart, sassy and, since this is science fiction, more than your average female. Plus, she can play piano, dance and sing! In short, she is everything I'd want my daughter to be. Heck – I want to be Sara! Fyn is strong, mysterious and humble. While he could easily be just another knight in shining armour, he falls for the one girl who, for the most part, really doesn't need anyone to rescue her.
The Key isn't great literature, but it is great fun. If you love Star Trek or Dr. Who, or you just want to escape into a bit of fun, romance and adventure, this is the book for you.
I wanted to ask Pauline if she ever served in the military. Her ease with military lingo and battle scenes read to me like firsthand knowledge. Who knows, maybe she'll honor me with a comment.
The Key is the first in Pauline Baird Jones' Project Universe series, which includes: The Key, Girl Gone Nova, Tangled in Time, Steamrolled, Dreamspell Steampunk and the newest release, Kicking Ashe.
Read more about Pauline Baird Jones and check out some of her other books (she writes mystery and nonfiction too) at: https://paulinebjones.com/