It's been one of those days. A bit stressful, a bit hurried… you understand. According to Merriam-Webster being shallow means:
Having little extension inward or backward.

Penetrating only the easily or quickly perceived.

Lacking in depth of knowledge, thought, or feeling.

Displacing comparatively little air.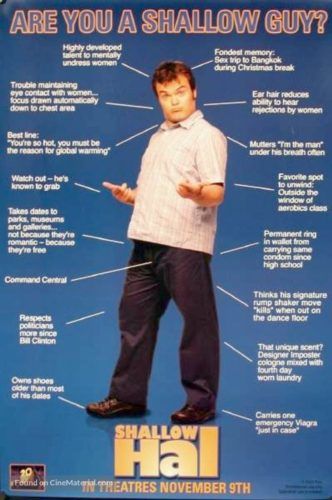 Displacing comparatively little air? Is it me, or does being shallow sound delightfully peaceful?
Don't you get tired of all those nasty, deep emotions? Guilt, empathy, love, hate, fear… And what about the people who are always expressing them? Drama Queens, Queen Bees and–hummm, kind of tough to think of a male description isn't it? Got it—Simon Cowells!
I'm not recommending shallow as a way of life; but you have to admit, it is tempting. Think about it…
You don't know the answers – but you don't care
Your spouse says he's leaving you – Can he take the kids too?
Your dog poops on the floor again – take the dog, as well.
New Years rolls around – Don't need any goals
Your teenager is having a meltdown – Time to go to the mall!
I know, I know!  There's war in the Middle East, the Greeks can't get their  *!# President to step down, and children are starving (heck, it's dinner time and one of them is yours!). But bear with me, give me 5 minutes – make that 15. That's what I'm recommending, 15 minutes of pure unadulterated shallowness every day. Now take a deep breath and try out these phrases.
Sure.

That's fine.

Whatever.

It's up to you.

No. (smile) I don't want to donate.

Yes (smile) I would like another – make that two.

I do have time, but I'm not going to volunteer.
What? You don't like this post? Sure. That's fine. (smile) I don't care.