I was in a bit of a panic this past week. For some reason, I was under the impression the Mayan End of the World was due to occur on December 12, 2012 — which would have been—

TODAY!
(If you're reading this, clearly, I was wrong.)
Today! When I'm all alone. No husband, no kids… nobody home but me.
"WOOF, WOOF!"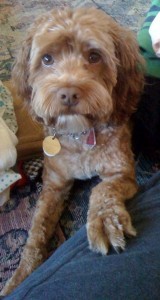 Well, and Henry… my dog.
I honestly don't believe in the whole Mayan End of the World thing, but still…you never know. What if it was true?
I don't want to die alone!!!!!!!
That said, I'm relieved to say the date officially predicted as the end of the world by the Mayan calendar is not, as I had thought, today; but rather, Friday, December 21st. A day in which I will be surrounded by Henry, my husband, my daughter and her boyfriend.
Whoosh! I'm so relieved! 
Granted, my son has other plans for that day, but I know he will be in good company…so all is well. (Hummm, maybe I should invite my mom and dad over for coffee?)
Which leads me to another thought: My "To Do" List. Specifically, my "Must Do Before The End of the World" list.
Think about it! Assume, for a second, the end of the world really will be on December 21st… What will be on your "Must Do Before The End of the World" List? I thought about it. And then I thought about all the goals I currently have such as:
Complete the 60-day Insanity workout program (I want my 6 pack!)

Write, edit and publish another novel

Sell home, move to Indiana

Finish reading Wool 5 – The Stranded, by Hugh Howey and listening to Insurgent by Veronica Roth
And, you know what—none of them made my "Must Do" list. Nope! Because after I thought about it, I realized the only thing I'd absolutely have to do if the world truly was going to end on December 21st was to tell all the people I love; my family, my friends…and yes, even Henry, that I love them. (Although finishing Wool 5 and Insurgent would be nice.)
I know. Sappy! Super Sappy! But it's true. Like the song says, "All you need is love."
What's on your "Must Do Before The End of the World" list?