The Graceling Realm
Bitterblue
Kristin Cashore is the author of one of my all time favorite books—GRACELING. Book 1 of the Graceling Realm series.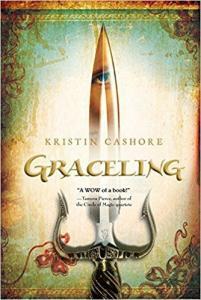 Not only is GRACELING beautifully written, but I absolutely love the heroine of the story. Katsa is everything a female protagonist should be: strong, smart and beautiful. In fact, I remember reading GRACELING shortly after I'd finished the Twilight series, and it was such a relief to find a strong female character to root for! (As I've mentioned many times, I enjoyed Twilight—but, oh, Bella was soooo annoying!)
FIRE is the second book in the trilogy—I take that back—FIRE is actually  a companion to GRACELING. As I understand it, while companion books inhabit the same worlds, each book can stand alone (versus a true trilogy, such as The Lord Of The Rings, in which all three books are necessary to complete the story.)  FIRE is very good; however, it didn't have quite the same impact on me.
Currently, I'm reading the third "companion" book, BITTERBLUE, and will have a review for you soon.
From Amazon:
The long-awaited companion to 

New York Times

 bestsellers 

Graceling

 and 

Fire

Eight years after 

Graceling

, Bitterblue is now queen of

Monsea

. But the influence of her father, a violent psychopath with mind-altering abilities, lives on. Her advisors, who have run things since Leck died, believe in a forward-thinking plan: Pardon all who committed terrible acts under Leck's reign, and forget anything bad ever happened. But when Bitterblue begins sneaking outside the castle–disguised and alone–to walk the streets of her own city, she starts realizing that the kingdom has been under the thirty-five-year spell of a madman, and the only way to move forward is to revisit the past.Two thieves, who only steal what has already been stolen, change her life forever. They hold a key to the truth of Leck's reign. And one of them, with an extreme skill called a Grace that he hasn't yet identified, holds a key to her heart.