Not very far into The Last Werewolf, by Glen Duncan, only 85 pages to be exact. (I'm reading an old-fashioned paper book this time), I was already furiously highlighting favorite passages. I love Duncan's style, a sort of dark, twisted, Victorian humor/horror with a modern-day twist. Here's an example of how the protagonist and coincidentally, the last living werewolf, Jake Marlowe, thinks:
"There's a reason humans peg-out around eighty: prose fatigue. It looks like organ failure or cancer or stroke but it's really just the inability to carry on clambering through the assault course of mundane cause and effect. If we ask Sheila then we can't ask Ron. If I have the kipper now then it's quiche for tea. Four score years is about all the ifs and thens you can take. Dementia's the sane realization you just can't be doing with all that anymore."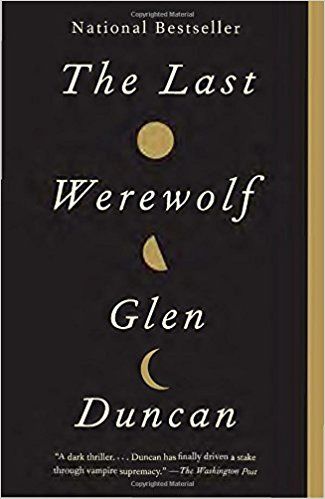 The story is told from Jake's slightly morose point of view and it's definitely an interesting one. Both human and wolf intermingle to give you a violently, empathetic character. At this point in the story Jake is more than ready to die; he's lived (without love) long enough. Some people want him dead and some, surprisingly, are ready to do whatever it takes to keep him alive!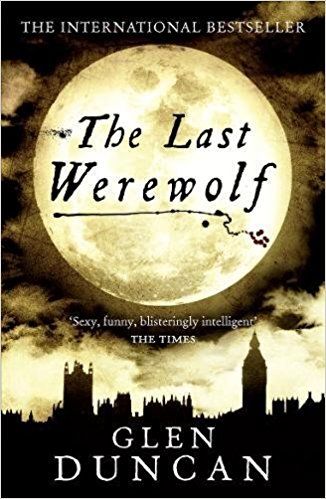 Now I must admit, I'm one of those readers who gets about ten pages into a book, and then flips to the last page to read the ending. I realize this must say something negative about me psychologically, but I can't help myself— and I don't want to!
That said, when the urge arrived while reading The Last Werewolf, I couldn't flip to the ending. I didn't want to know. It took me awhile to figure out why. I finally realized I didn't want to know because I didn't have a clue how it was going to end. I usually have a clue, and because I have a clue, I need to see if I'm right…especially if I'm worried that it's not going to turn out well. But I really had no idea where The Last Werewolf was going.
Taken out of context, that last sentence would certainly sound negative. I didn't mean it to be. It is a rare writer who can create enough mystery to drive the plot and yet, give little hint as to the outcome. Duncan knew exactly what he was doing. Just one more page, the reader thinks, and the options will become clear. Then it's simply a matter of which plot will win out. But not so, dear reader, because Duncan very artfully throws in a twist here, a surprise there, and it's all a reader can do to put the book down, stop reading, and go to sleep. Just one more page, one more. . .
True, Duncan's style can sometimes feel verbose, his descriptions a bit thick with imagination, and sometimes too graphic (for my taste, anyway. Yet, it is a novel about a werewolf, after all. Passion and blood are a given.). While I might have slipped over some of the descriptions, I could hardly wait to find out what was going to happen next to Jake Marlowe (a.k.a. The last werewolf).
If you like mystery, fantasy, a little horror and. . . Well, given my delight in letting this story unfold, that's all I'm going to say. Read The Last Werewolf. Have fun. And keep your eyes pealed for the sequel. (There has to be one.)
Next up on my bookshelf, Abarat: Absolute Midnight by Clive Barker. Book three in The Books of Abarat series and one I've put off reading because I don't want it to be over.  I'm going to take my time. I'm going to savor it. . .so it may be a few weeks before I write my next review.
Before I go, I want to thank Shawn Wickersheim for recommending The Last Werewolf. Be sure to check out Shawn's blog at: http://inkcompetentwriter.wordpress.com.
Until then, Happy Reading!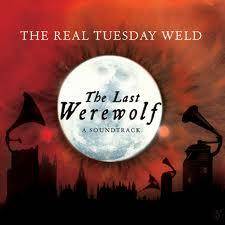 Check out the soundtrack to The Last Werewolf
(Yes, there really is a soundtrack!)