Sit me down, talk to me face to face and I'll tell you exactly what I think about a book. But I don't enjoy writing reviews. Instead, I'll be happy to tell what's on my bookshelf.
The thought of writing something negative about a book and posting it for all the world to see—it terrifies me. Which is why you haven't seen many book reviews from me lately. But now it's time to catch up (in a small way) because I have been reading. Of course, I've been reading. I'm a writer. Writers read…it's as simple as that!
Below are a few of the books that have recently nourished my writer's soul.
I only gave John Saturnall's Feast, by Lawrence Norfolk, three stars on Goodreads. The writing was beautiful. The description of food, smells, textures and colors, no less than luscious—but, the plot was wanting. It just goes to show that someone can be a good writer, but not a good storyteller. I still recommend it. There's a lot to be learned (as a writer) from Norfolk's descriptions.

I read Grounded, by G.P. Ching, a while ago. I believe Ching created a new genre with Grounded: Amish Scifi (Don't you love it!) As with G.P. Ching's other books, I highly recommend Grounded for upper middle grade and young YA readers who like science fiction, adventure, and a little romance. 

I started reading the second book in Laini Taylor's trilogy, Days of Blood and Starlight, and realized I couldn't remember some key elements from the first book, Daughter of Smoke and Bone. However, I did remember loving it when I read it…so, I read again. It was even better the second time. Then I read Days of Blood and Starlight. All I can say is that I love, love, love Laini Taylor's trilogy about star-crossed lovers. It's Angels and Demons as you've never seen them before. I can't wait for the third book in the trilogy.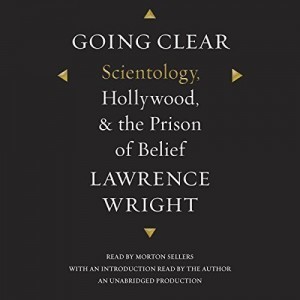 I listened to Going Clear on my audible app. Narrated by Morton Sellers, it is a slightly scary and intriguing look into the world of Scientology, researched and written by Pulitzer Prize-winning author Lawrence Wright. Let's just say, I will never look at another Tom Cruise movie the same way again.

I kept hearing about The Fault in Our Stars, by John Green, and finally had to read it. I don't normally read books that I know are going to make me cry. I'm very glad I read this one. The Fault in Our Stars is emotional…to say the least. It will make you cry, but it's also funny and touching and an awesome romance. Read it!
 
Check out what I'm currently reading (I'm enjoying both of them.) I bought the hardcover edition of The One and Only Ivan because I suspect, someday—in the far, far future—I will read it aloud to my grandchildren. (No, I don't have grandchildren!) I'm listening to The Diviners on my audible app.
 
What's on your bookshelf?