"If You Could Bring Back One Famous Person, Who Would It Be?" is actually a blog prompt I recently received and immediately rejected because, well, it seemed rather pointless. It felt like one of those writing prompts they hand out in high school creative writing classes.
i.e.

*

If you could be any fruit, what would you be?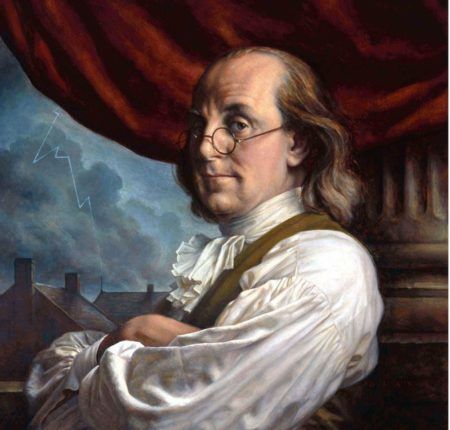 However, having now totally bashed the prompt, I have to say, it stuck with me.
Why?
Because I have asked myself that question (No need of prompting, thank you!) And the answer is always the same: Benjamin Franklin.
No matter when or where I have this daydream, it's always Benjamin Franklin.

NO I don't have a thing for Benjamin Franklin!
But why not Amelia Earhart? Why not Gandhi? I like both of them. But no, it's always my fat friend, Benjamin.
Sigh…
Anyway, after pondering this oddity of daydreaming for some time, it struck me, like a cold hard slap in the face– it's because of Bewitched. That 1960's iconic TV show. 
In the episode entitled "My Friend Ben", Samantha's crazy Aunt Clara, while attempting to fix a lamp, accidentally strands Benjamin Franklin in the future.
(Little did she know, she stranded him in my daydreams as well.)
So that's the sad twisted state of my imagination.
(Thank goodness I've never had an inappropriate daydream about Daren Stevens—either of them!)
Ironically, I also realize that whenever I think about going back in time, I end up on Little House On The Prairie. However, once I realize there's only one indoor toilet in the entire town, it's back to the future!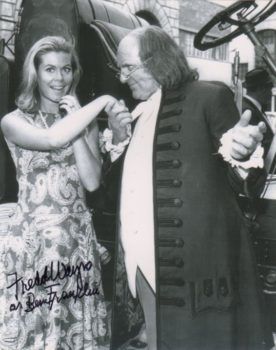 Anyway, it's much more fun to think about showing Benjamin Franklin all the cool technology we have. I don't worry about him taking anything back that will change the space-time continuum because, let's face it, I can show him how to use my iPod, but I certainly can't show him how to build one.
So, fess up: If You Could Bring Back One Famous Person, Who Would It Be?  
*A grapefruit