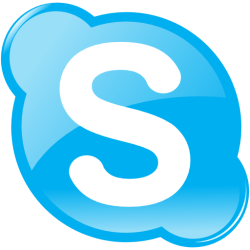 The first time it hit me how much technologies like Skype are reshaping our world, was when my cousin moved to Australia to marry the man of her dreams. I can only image how difficult her decision was, and yet, so much less difficult than it would have been thirty years ago. Why? Because technologies like Skype not only make it possible to see and be seen by loved ones oceans away, they also allow us to do it absolutely free.
Fast forward several years (and yes, my cousin is still happily married and now living back in the US) and I've been able to experience the benefits of Skype myself, with my son, who is studying abroad in Italy. I spoken to him more via Skype from Italy than I do when he's home studying at our state university.
While families live farther apart than ever, it's nice to know we can still stay connected. In recognition of just how much technologies like Skype (and FaceTime on iPhone or FaceTime on Android, etc.) are making our world a much cozier place to live in, I've invited successful children's author and friend, Suzanne Slade, to share with you her experience of using Skype for School visits.  Suzanne Read Across America as she visited 13 schools around the country in one day via Skype.
Amazing!
On National Read-Across-America Day, March 2nd, I woke at 3:35 am and couldn't get back to sleep. I was too excited! I was about to read to students all across the country—an event I'd been working on for a year. If things went according to plan, I'd visit thirteen schools, each in a different state, all from my office (aka. dining room) in Libertyville, Illinois. I'd connect with a new school every half hour, from 8:00 am to 2:30 pm, spending twenty minutes with each group. As I put on my Cat-in-the-Hat hat that morning, I wondered what surprises, or technical glitches, awaited. Here's how it went down.
The day kicked off with 118 enthusiastic fifth graders from Eaton Elementary (NC). As with all the schools, they'd prepared a message about reading for me to share with the next school. Eaton's message was, "Get off the couch and read!" How awesome is that? I asked the class how many people they thought I'd talk to that day. The school with the closest guess would win a free box of autographed books. They estimated 1400. I have to admit, I was a little surprised their number was so high. I'd guessed only 375.
At my next stop, King's Academy (FL), I explained how a book is made using cool show-and-tells. I shared the original 5-page manuscript, the editor's book dummy, the illustrator's pencil sketches, his full-color paintings, the F & G, and the finished book complete with dust jacket. The students had lots of great questions. My favorite was, "Do you change the words in your stories a lot?" Although things were going well, one hour into my marathon event I realized I couldn't sit all day, so I put my computer on a small chair on the table and did several visits standing up.
Next, I met some delightful first graders in the Bronx (NY). As I showed them a sloppy story I wrote in first grade, my dog woke from his nap. Using his keen doggy sense, he figured out I couldn't leave my computer and began chewing my son's shoe. I continued on and ended the visit by reading a first-grade favorite (and 2011 Teachers' Choice award winner), WHAT'S NEW AT THE ZOO?.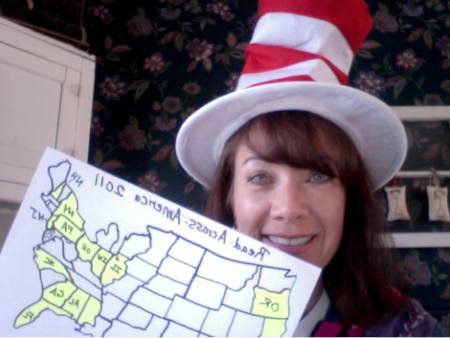 Then I headed over to New Jersey and New Hampshire, before winging west to Oregon. That's when the inevitable happened. The teacher forgot about our different time zones and her students weren't at school. So we rescheduled for later that afternoon. After a quick cereal break, I connected with football fanatics at Watwood Elementary (AL) who had a special message for the Bulldog fans at my next school, Little River Elementary, in Georgia, "Be a champion. Read!" After stopping by Strathmore Middle School (CA), I headed to Indiana to visit my hometown grade school where a TV camera was rolling. I moved on to Glendale Primary (OH) where my face became four feet tall on their gym wall. [Mental Note to me: Don't forget to brush teeth before Skype visits!]
The biggest surprise was at Stroudsburg Elementary (PA) when I found 800 students waiting for me! They squealed with delight when they met my dog, Corduroy. My last stop was Eccles Elementary (OR). The class helped me read Animals Are Sleeping, then gathered around my screen image for a group photo.
When the day was over I was exhausted, but I couldn't stop smiling. The students had shared so many inspiring messages such as, "Exercise your brain, read!" and "Reading opens all doors." And, I was amazed to discover I'd talked to 1442 students! The event was full of surprises, and well worth the time I'd spent planning with teachers around the country. But the best part was seeing how much the children loved books, because that's what Read-Across-America Day is all about!
Check out Suzanne's newest book: Climbing Lincoln's Steps