I have officially joined the Mile High Club. I belong to an élite class of bloggers who have "done the deed" at over 5,280 feet in the air! Shocking, sure, but what else would bloggers do when boredom strikes?
POST! That's right, we post!
(For those of you thinking I had joined one of those other Mile High Clubs—shame on you!)
This week I've had the opportunity to spend a fair amount of time hanging out in airports. (When you're competing for air space with high winds and tornadoes that tends to happen.) While much of this time was frustrating, exhausting and just plain tedious, there were some bright, if not actually delightful moments. Which brings me to my theme today: Favorite Airport Haunts.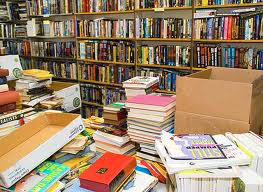 Over the past few years, I've spent a bit of time flying back and forth to visit my daughter. Consequently, I've become well acquainted with Milwaukee's General Mitchell Airport. Besides being a great little airport without all the hassles of the equally nearby (to my home) O'Hare Airport, General Mitchell is home to the Renaissance Book Shop. The Renaissance Book Shop specializes in used books, and I believe, was the first used bookstore in any airport. It is also hands-down my favorite bookstore, new or used, in the country.
Why is it so special? Besides having a great selection of books: new, old, rare and everything in between, the moment you step inside the distinctive smell of airport disappears, magically replaced by scents of paper, ink and glue. Leave your airport worries behind, it's as though you've stumbled into that rare and truly special neighborhood independent bookstore.
And then there's the Café Intermezzo!
Recently, due to the high winds mentioned above and my daughter now attending school in Georgia, I wandered into what has quickly become my second favorite airport bookstore. This one, found in the Hartsfield-Jackson Atlanta International Airport, is not only a bookstore, but also a café—a European style café. 
Café Intermezzo has several locations in Georgia, but at the airport you'll find it nestled away in the corner of Concourse B. The food is delicious, the coffee and teas come fresh brewed by the pot, the music is classical and there are plenty of books to browse. After wandering the airport for hours due to weather delays, it was like walking into an Austrian coffee shop. I could have stayed there all night (unfortunately they close around 10 pm).
Those are my current favorite airport haunts. Should you ever be delayed, for any reason, at the Milwaukee or Atlanta airports, check them out.
Got a favorite airport haunt? Share it!