When I turned 30-years-old, I surrendered to the fact that I was never going to have the body of a super model. No matter how much I exercised, or how little I ate, at my lowest possible weight, I would still have big hips. Ironically, that's when I started to like how I look.
Some of you may call this acceptance, and you wouldn't be totally wrong. However, I believe there are times we can simply accept that things or situations or people will not change, and in accepting, choose not to fight, while there are other times when we must absolutely give up one way of thinking in order to move on to another.
Hence, I went from believing I wasn't attractive, to believing I was.
Today was one of those days that began with my mind whirling with worry and only got worse as the day progressed. There is a situation I'm having an incredibly tough time accepting. As a result, I've found myself spending an enormous amount of time and mental energy imagining different ways to fix this situation, which, based on everyone I've talked to, is unfixable.
I was expending just such energy, rather than making headway on my novel, when I decided to accept the fact that I wasn't going to be productive sitting in front of the computer, and so instead, should take my dog for a walk. At least there, in the open air, the likelihood of clearing my mind was greater.
As I walked, my mind whirled. My novel, my blog post… all were at a stall because of this situation. Worse yet, reason as I might, no matter how many scenarios I imagined—I found myself no closer to an answer, or what's more, a feeling of peace. That's when it hit me: if the situation was truly unfixable, I could surrender.
And just like that, the tension I'd been carrying all day disappeared. The situation wasn't solved, but I no longer had to worry about fixing it. Maybe it was acceptance—but somehow, it felt like much more. (Better yet, I had an idea for a blog post!)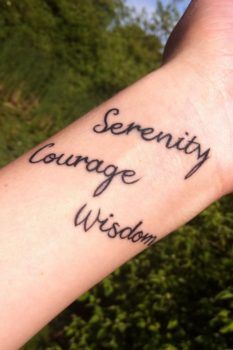 Throughout my life, whenever I'd hear people talk about surrendering to God's will, it had a negative connotation for me. The fact is, people usually talk about surrendering to God's will when things are going so bad there really is nothing else they can do. What I didn't realize is that surrendering to the way things are allows us to move on to other things—better things!
Is there something you need to surrender to today?