The other day, after listening to The War of Art, by Steven Pressfield (my 4th time listening to it, by the way) my husband and I started discussing what it meant to be passionate about your art.
To really love what you do—what you create—versus simply working for money. He posed this question:
What if someone offered to pay one million dollars for your shiny new unpublished novel, but in selling your novel to them, they would own all the rights and only they would ever read it?
No one else—Nunca! Ever!
My initial response was, "Fine with me. I'll gladly take the money and write another novel."
Then I thought about it. I write educational books for hire all the time. I enjoy writing them, but there's no question I write them for money… although, I make nowhere close to a million dollars. Too bad.
But, what about my novel?
I'm not the type of writer who can whip out a novel every few months. WHEELS, my first novel, took me several years to write. What if after all that work, all the time spent getting to know my characters, their world, their deepest desires—not to mention all the daydreams I'd had of people actually reading my story—what if after all that, only one person ever read it?
I can't honestly say the money wouldn't be enticing—very enticing—but I know if I took the deal, a large part of me would be sad. It would feel as if I'd been silenced. Like a chunk of me would remain hidden from the world for the rest of my life. In fact, the more I thought about my husband's question, the more empty, ugly and unappealing the offer became.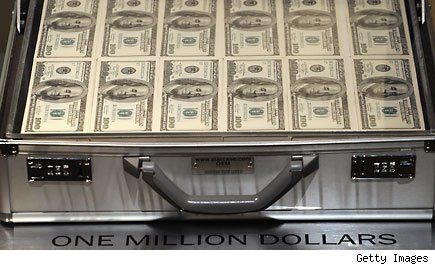 Then again—A MILLION DOLLARS!
What would you do?