Writing may be mentally beneficial, but physically…. it might be better to take up smoking.
Sitting in front of a computer all day is fattening, unhealthy, and horrible for your back…not to mention your knees, your hands, and your neck.
I could have chosen a healthier career, such as tightrope walking or race car driving. Unfortunately, I suck at heights and you have only to look at the back of my car to see that…well, I should stick to writing.
Which is why I absolutely love the two apps I'm about to tell you about. Apps, without which, my butt would be as wide as Harry Potter and the Order of the Phoenix (hardcover edition, page to page, all the way to the moon). Most important, my inspiration would be lost to aches and pains.
Time Out Free, by Dejal Systems, LLC, is a simple app that encourages computer users to take regular breaks. As they say,
"The human body isn't built to sit in one position for endless hours, gripping a mouse or typing on the keyboard."
While you could achieve the same effect by setting an alarm, Time Out Free gets in your face by popping up on your screen and, based on your preset preferences, blocking your ability to work for a period of time. Yes, you can still push a little button to skip the breaks, but the in-your-face element is a good reminder to get up and stretch. Plus, you can program in micro-breaks (i.e. 15 seconds stretch reminders). (Click HERE to check out similar apps for PCs)
Yoga Studio, by Modern Lotus, is the answer (well, my answer) of what to do while you take that break. Yoga not only makes you feel better and keeps you feeling that way, but more important, it helps you look good (i.e. Keeps your writer's butt in check). And we all know…
"It's better to look good than to feel good."
(I guess I should add, please check with your doctor before trying yoga.)
Anywho, I've checked out tons (Okay, several) yoga apps, and Yoga Studio is by far my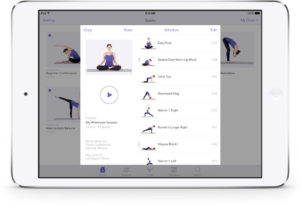 favorite. It offers three levels, a variety of lesson lengths and most important, the instructions flow well and are crystal clear. Whether you're a beginner or an advanced student, add Yoga Studio to your iPad and enjoy a healthy, feel-good 15 minute (or 30 or 60 minutes) break. (Click HERE to check out a similar app for Android users)
What Apps do you use to keep you healthy, moving and motivated?